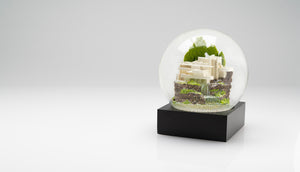 Let us create a globe for you that inspires or celebrates
We cherish our custom clients and their projects. The collaboration always results in wonderful partnerships and products. Plus you won't find more creative solutions, attention to detail nor better customer service anywhere.
We LOVE the globes!!!

They turned out perfectly. Thank you so much for your work on this. The final product is just lovely.

Carnegie Hall

New York, NY
We could not be happier with the results

Please allow me to first start by saying thank you so much for the hard work and dedication by you and your team in the development and creation of the Fallingwater.

paconserve.org

Pennsylvania
They're a hit! 

Yes, we received the beignet snow globes, and they are officially available in store and online. I can't even begin to tell you how happy I am with how they look, they're perfect.

Cafe Du Monde

New Orleans, LA
Latest projects
We have created custom snow globes for such iconic brands as The Metropolitan Museum of Art, The Whitney and The Guggenheim Museum, Harrods, The High Line, Godiva, and Burberry, as well as Corporate Gifting and Special Events.
Cafe Du Monde
Nordstrom
TIN Building
Hotel Bristol
How it works
We try to keep development and production lead time to no more than 6 months. These steps below outline the journey from your concept to creation.
Step One
SEND YOUR IDEA
Client submits a sketch, photo, or short description of concept
Step two
CONCEPT REVIEW
We email client a JPEG of the concept within 3-5 days for client review
Step three
MODEL FEE
Upon approval of concept payment of prototype fee is requested
Step four
3-D MODEL REVIEW
Video of 3-D model sent to client for approval, usually within a few weeks. Two revisions of model included in prototype fee up to this stage
Step five
SAMPLE CREATED
Prototype development within 4-6 weeks
Step six
SAMPLE APPROVAL
Sample created and sent to client for approval fully painted with glitter and snow
Step seven
PAINTING REVISIONS
Reasonable revisions of painting and glitter/snow are included. Approval needed within 3-5 days.  Delays in the approval process may result in delivery delays
Step eight
PACKAGING
Packaging and labeling should be discussed and designed during the prototype process to ensure timely delivery
Step nine
YOUR GLOBES SHIP
Custom globes completed, packaged and then shipped to you
Questions & answers
Here are answers to some common questions about creating a custom snow globe.
Our MOQ is 600 pieces. We can sometimes do fewer but the price is higher.
Timing depends on the time of year and where we are in our production cycle. Custom globe proposals for Q4 are best submitted in the first month of the year. 
Prototype fee ($1500 +) due upon approval of concept JPEG. 50% deposit with PO, payable upon approval of sample. Final payment due upon shipping.
Our packaging is a beautiful presentation gift box with custom cushion insert. A packaging template is provided for client's design team. CSG Design services also available on an hourly basis.  Please inquire.
The process typically takes between 6-8 months so you can plan from there. Occasionally that time is reduced, but we do not like to overpromise!
For domestic orders we can use your shipping account, or ours if you prefer. Fedex and UPS are our usual methods.
Get started
Please complete the form below with all the details about your special project and we will usually reply within 48 hours or less.
Please keep in mind we are a commercial custom production house. We can not create single globes.